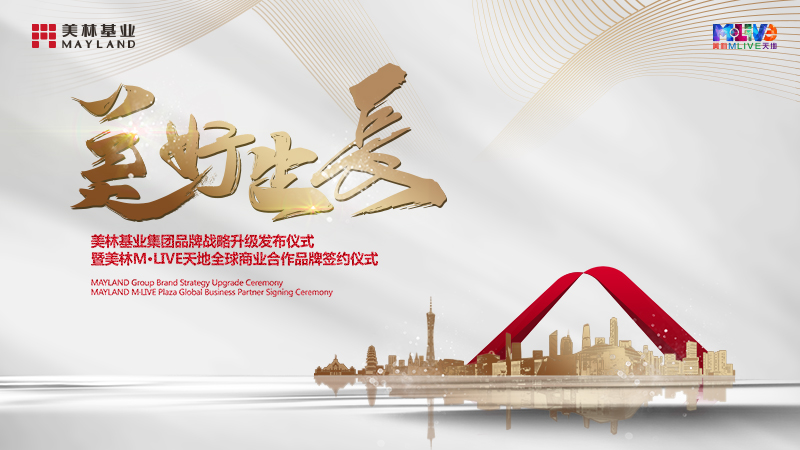 On January 8, the "Mayland Group Brand Strategy Upgrading Ceremony & Mayland M•LIVE Plaza("M•LIVE") Global Business Partners Signing Ceremony" themed with "Better Growth" was heldin Mayland Resort inGuangzhou. Liu Yuanbing, President of Mayland Group and Gordon Liu, CEO of the Groupand other senior leaders, leaders in Tianhe District, Wang Shao, President of GuangdongReal Estate Association, Guo ZengLi, Director of Mall China Shopping CenterDevelopment Association, the representatives of the World Top 500 Enterprise Wal-Martand the world's largest household brand IKEA, as well as brand merchants fromall over the world attended this event to learn about Mayland Group'sinnovative ideas and strategic layout of better life and witness a new era comingto Mayland Group! Nationwide mainstream media are invited to make follow-upreports.
At this event, Mayland Group officially released its new brand positioning and diversified strategy layout.Meanwhile, the Group's first large- scale commercial project - M•LIVE formally signed with Sam's Club of Walmart Family and IKEA, working together to reshape the business pattern inSouth China, which has aroused great concern and heated discussion in the industry and among the media.
Diversified layoutbuilds a new blueprint of "With You Forever"
Liu Yuanbing, President of Mayland Group, addressed a speech to the guests at the beginning of the event. He reviewed the development philosophy of Mayland Group, which was established in the concept of "A City of Life", hoping to create a dream home of "A City of Life" for millions of people. In 2006, Liu Yuanbing made his dream come truein North Guangzhou: Mayland City, "A City of Life" was born in China.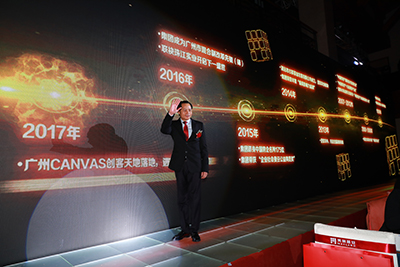 As a post-90 leader in the real estate industry, Gordon Liu, CEO of Mayland Group paid tribute to his father's persistence in quality and his dedication to real estate. He also released the Group's new brand positioning and development strategy in a full English speech, and further explained the brand belief of "Mayland, With You Forever".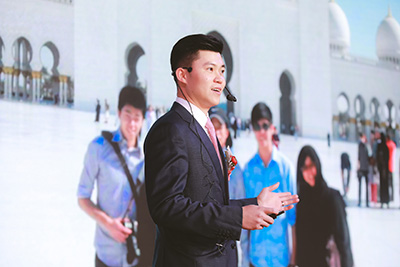 He said, the Group has always adhered to the brand philosophy – "create quality lifestyles with classic works". Expanding from a single business to diversified industries, and from residential development to urban operations, Mayland Group has leveraged its own quality resources in residential development and other related fields, to transform its way of thinking, and has developed an international vision in its pursuit of diversified development in six sectors: Mayland Residence, Mayland Culture Tourism, Mayland Commerce, Mayland Innovation, Mayland Agriculture and Mayland Health.
Based on its new positioning of "Quality Service Provider", in 2018, Mayland Group continued to enhance its grand vision with knowledge and wisdom, and boldly laid out a forward-looking blueprint. It is dedicated to developing residential and cultural properties and tourism, is focused on agriculture as a key strategic sector, and is developing commerce, hotels, and property and construction industries. The Group is also exploring and investing in education, healthcare, internet technology, and industry and finance, and remains committed to building a robust "all-around quality-life chain".
M•LIVE, boasting diversified types of business and highlighting experience, will be the 2nd CBD in Guangzhou
At the event, Xiao Huanjun, the person in charge of M•LIVE, explained the details of the project. He said that M•LIVE, positioned as a family one-stop shopping center, is a unique one with a total planned building area of over 280,000 square meters, which is one of the few metropolitan- level large-scale comprehensive shopping centers in the region.
With the strong rise of the 2nd CBD of Guangzhou and the continuous upgrading of surrounding residential communities, M•LIVE will bring more quality and high-end living facilities and commercial service experience to more than one million high-end families and urban elites in the region, deliveringan immeasurable business value in the future !
In terms of business creation, M•LIVE is characterized by 10business types such as boutique retail, shoes & clothing, children's playground, children's training, specialty catering, home, technology and entertainment, which has attracted numerous well-known brands at home and abroad to settle in, aiming to co-create seven core experiences of fashion shopping, fashion catering, movie entertainment, cultural & creative reading, children development, trend sports and art exhibition. The project will also support the construction of a public square, covering thousands of square meters to provide recreational and public facilities for residents in surrounding communities.
M•LIVE has attracted great attention and heated discussion in the industry by virtue of its innovative business types and strong location advantages. Today, M•LIVE will officially sign with world-wide brands merchants to create a new business pattern in South China!
M•LIVE officially signs with Sam's Club and IKEA to reshape the business pattern in South China
At the meeting, Luo Guojian, Vice President of Mayland Group, and Yu Liqin, Regional Director of South China Affairs Department of Wal-Mart (China) Investment Co, Ltd., and Garry Magee, President of IKEA China, held an official signing ceremony, marking the official entrance of Sam's Club and IKEA into M•LIVE!
IKEA has taken the lead to enter the first phase of the project with a flagship store of 21,000 square meters, which is the third IKEA store in Guangzhou, with an estimated annual flow of over 4 million visitors. Sam's Club will settle in the second phase of the project, covering a construction area of about 20,000 square meters. As the world's largest high-end member-owned store, it willprovide the global best quality products for the middle-to-high-end family consumers with an annual income of over 500,000 yuan in Guangzhou. After the opening, it will benefitpeople within the range of 7-10 kilometers, with an estimated annual flow of over 3.5 million visitors, and will effectively increase the image and economic value of regional business, creating an infinite future for business.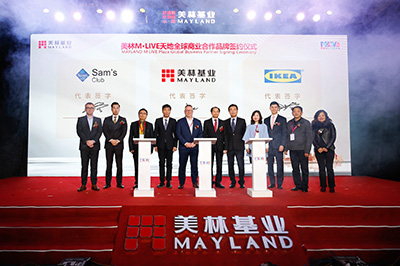 Developed by Mayland Group, M•LIVE is one of its best commercial projects, and will become one of its milestones.The Group is working towards providingpeople with a better living environment in Mayland City andimproving their quality of life and taste in "M•LIVE".
M•LIVE will be opened in August 2019, by which time we expect tomeeta great international experience-oriented shopping mall.